Residential Carpet Cleaning
Maintain the cleanliness of your home with the help of Executive Carpet Cleaning MD. We offer carpet cleaning services to residential property owners in Baltimore, MD and surrounding areas.
Why You Should Hire Us as Your Carpet Cleaner
Regular cleaning of your carpet keeps it looking great on the surface. It also helps in removing abrasive dirt particles that damage fibers, cause premature wear, and eventually shorten the life of your carpet.
The importance of cleaning your carpet goes far more than keeping your home aesthetically pleasing. A dirty carpet can be a source of indoor air pollutants and allergens, such as pet dander and accumulated dust. Maintaining the cleanliness of your carpet is one way of making sure that your loved ones are living in a safe and germ-free environment. We use state-of-the-art equipment and high-quality products to remove deeply trapped dirt on your floor covering.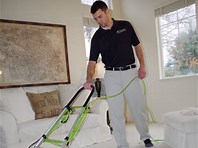 When it's time for your carpet to get a thorough cleaning, reach out to us. Our team is ready to serve you!